Exhibit Opportunity!
Sandy Spring Museum
Sandy Spring, Maryland
October 4 -- November 18, 2017
All Member Exhibit (non-juried)
Tentative Title: Community, Then and Now
The theme of this exhibit is to engage with the Sandy Spring Museum and it's community. Each participating artist will become a member of the Museum for free for a one year duration.
Artists will have the opportunity to create work related to the Museum in a variety of ways:
• Using of the Museum's image archive
• Paint Outs -- models and landscapes on Museum grounds - April 29 (See Below)
• Landscape painting on resident's sheep farm
• Photo Shoot of residents for use as reference images.
50% of your work on exhibit will be related to the Sandy Spring area.
Nature of Work: Portrait, clothed figure and nude, still life, landscape and pets/animals.
See complete revised (April 20, 2017) Prospectus for more information.
I N S P I R A T I O N From Sandy Spring I M A G E A R C H I V E

The Museum has offered their archive of photographs for you to use as inspiration for your work for the exhibit. We have selected a variety of images for your use. Interpret your selection how you would like -- charcoal, pencil, sepia or imagine in color!
Click here - Image Archive
1. Choose image(s); No Substitutions once you make your selection(s).
2. It is required that you email the COMPLETE File Name(s) to info.at.mspp@gmail.com
3. A jpeg will be emailed to you
4. Your selected image will be marked 'unavailable' for other artists.
Using the archive is one opportunity for you to have artwork related to Sandy Spring. The Museum is allowing one non-related artwork for each artwork that is Sandy Spring related. See Prospectus for details.

Andree Tullier, Exhibition Chair

PAINT-OUT EVENT*
Sheep Farm
May 13, 2017, Saturday in Sandy Spring, MD
9:00am-1:00pm

The society has been invited by an area resident to paint on her sheep farm.
This is a great opportunity to get a Sandy Spring-related artwork done for those members who will be exhibiting next Fall at Sandy Spring Museum.
Maximum amount of artists: 15
Register/RSVP:
Each member must email info.at.mspp@gmail.com a committed RSVP (first come, first serve) and more information will be sent to you. There is no rain date at this time. Water will be provided.
*This is a Plein Air painting event. Painting outside is exciting! A portable easel, sun umbrella, chair, water bottle, sunscreen, hat, etc., are items to gather for such a day of painting! .

Diane Monday
Oil Portrait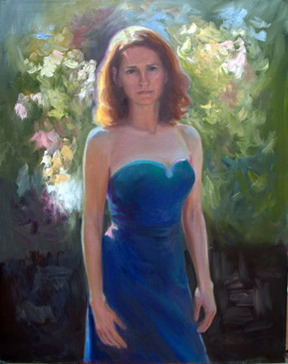 Welcome
Maryland Society of Portrait Painters is a non-profit organization founded in 1982 for the purpose of promoting and encouraging the development of portraiture. Membership is open to individuals and organizations interested in the art of portraiture or active in creating portraits in painting, drawing and sculpture.
Board
David Lawton, President
Rick Casali, Vice President, Events Chair
Nancy McCarra, Treasurer/Secretary
Andrée Tullier, Exhibition Chair, Webmaster
Melissa Gryder, Membership/Accreditation Chair
Nina Ellsworth, Newsletter Chair