Kerry Dunn 3 Day Workshop -- $100 Discount for MSPP Members
at Chesapeake Fine Art Center
March 13-15, 2015
*Anyone who signs up for Kerry's 3 day portrait painting workshop at Chesapeake Fine Art Studio in Chesapeake, Maryland will get $100 off their tuition!
http://www.chesapeakefineartstudio.com/
This is only available to painters who have studied with me before and Members of the Maryland Society of Portrait Painters and is applicable only for this workshop. Use code @paintkerrypaint when you sign up and you will receive a $100 check upon arrival. And, three spots left for the 'Artists staying with Artists' accommodations as low as $40 a night. If you stay with the 'Artists staying with Artists' you can use your $100 towards your accommodations. Inquire about 'Artists staying with Artists' by calling the studio (410) 200-8019.
A Note from David Lawtown, President
I am sad to say that I was notified today that Bonnie Roth Anderson has passed away. Bonnie has been a key figure in the Art Community and over the years taught many MSPP members.  Bonnie will be missed by all that knew her. Personally, I have known Bonnie since I was 16 years old and have spoken to her as recently as this past Saturday.
In Memory of Bonnie Roth Anderson -- by Abigail McBride
We lost a matriarch of the Annapolis painting community last night. Bonnie Roth Anderson was a compelling portrait painter and educator. She was one of the founders of both the Maryland Society of Portrait Painters and the Mid Atlantic Plein Air Painters Association. In 2002 she won the prestigious Annie Award from the Anne Arundel Arts Council.
At 14, I took my first class at MD Hall for the Creative Arts from Bonnie. She was a tough inspiring teacher.
Bonnie was one of the first in our area to travel to Provincetown, MA for study with Henry Hensche at the Cape School of Art in the summer of 1975. She encouraged other now prominent artists to follow including David Lawton, John Ebersberger and Lee Boynton. 
She will be missed. Rest in peace Bonnie.
~ Call for Art ~
ALLL MEMBER EXHIBIT
April 1st - May 17th, 2015
Willow Gallery
Quiet Waters Park
Annapolis, Maryland
The Submission Deadline is extended - again!
Email your work to info.at.mspp@gmail.com by February 24, 2015.

ANNUAL MEETING
Romel de la Torre's Portrait Demonstration
The Maryland Society of Portrait Painters was pleased to host internationally renowned artist Romel de la Torre at MSPP's annual meeting Saturday Nov 1, 2014 in Annapolis, Maryland.

The event began with a brief meeting in which we honored long-time society member, Richard Caruso with a life-time achievement award. President David Lawton awards Mr. Caruso.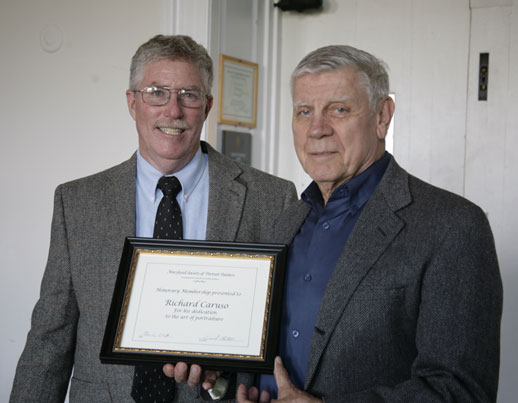 Member Spotlight!
LISA MITCHELL - Click to read about Lisa!


Welcome
Maryland Society of Portrait Painters is a non-profit organization founded in 1982 for the purpose of promoting and encouraging the development of portraiture. Membership is open to individuals and organizations interested in the art of portraiture or active in creating portraits in painting, drawing and sculpture.
Board
David Lawton, President
Rick Casali, Vice President, Events Chair
Nancy McCarra, Treasurer/Secretary
Andrée Tullier, Exhibition Chair, Webmaster
Melissa Gryder, Membership/Accreditation Chair, Newsletter Chair
Desiree Scherini, Member-at-Large