~ Call for Art ~
ALLL MEMBER EXHIBIT
April 1st - May 17th, 2015
Willow Gallery
Quiet Waters Park
Annapolis, Maryland
Submission Deadline: February 15, 2015

ANNUAL MEETING
Romel de la Torre's Portrait Demonstration
The Maryland Society of Portrait Painters was pleased to host internationally renowned artist Romel de la Torre at MSPP's annual meeting Saturday Nov 1, 2014 in Annapolis, Maryland.

The event began with a brief meeting in which we honored long-time society member, Richard Caruso with a life-time achievement award. President David Lawton awards Mr. Caruso.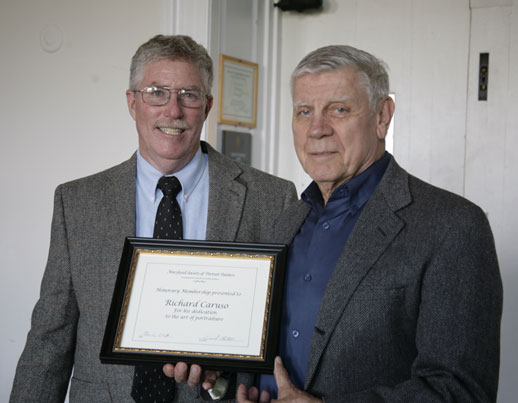 Member Spotlight!
LISA MITCHELL - Click to read about Lisa!


Welcome
Maryland Society of Portrait Painters is a non-profit organization founded in 1982 for the purpose of promoting and encouraging the development of portraiture. Membership is open to individuals and organizations interested in the art of portraiture or active in creating portraits in painting, drawing and sculpture.
Board
David Lawton, President
Rick Casali, Vice President, Events Chair
Nancy McCarra, Treasurer/Secretary
Andrée Tullier, Exhibition Chair, Webmaster
Melissa Gryder, Membership/Accreditation Chair, Newsletter Chair
Desiree Scherini, Member-at-Large